Tue 4 Dec 2007
Why can't we keep the dots connected?
Founded by abolitionists in 1865, The Nation is the oldest weekly magazine in the country (1). Today it is a bastion of progressive opinion and insight, and on May 7, 2007, it published an urgent special edition entitled "Surviving the Climate Crisis: What Must Be Done" (2).

To give credit where due, there are some excellent articles in this issue, with important points by writers serious about global warming:

And finally, in his piece on artistic responses to global warming, Lawrence Wechsler quotes Jonathan Schell's brilliant prose from his 1982 book of essays, The Fate of the Earth (10):
Two paths lie before us. One leads to death, the other to life. If we choose the first path . . . we in effect become the allies of death, and in everything we do our attachment to life will weaken: our vision, blinded to the abyss that has opened at our feet, will dim and grow confused; our will, discouraged by the thought of trying to build on such a precarious foundation anything that it meant to last, will slacken; and we will sink into stupefaction, as though we were gradually weaning ourselves from life in preparation for the end. On the other hand, if we reject our doom, and bend our efforts toward survival . . . then the anesthetic fog will lift: our vision, no longer straining not to see the obvious, will sharpen; our will, finding secure ground to build on, will be restored; and we will take full and clear possession of life again. One day – and it is hard to believe that it will not be soon – we will make our choice.
Schell was writing about nuclear holocaust, but the consequences of a deranged climate, while not quite so quick, are equally devastating.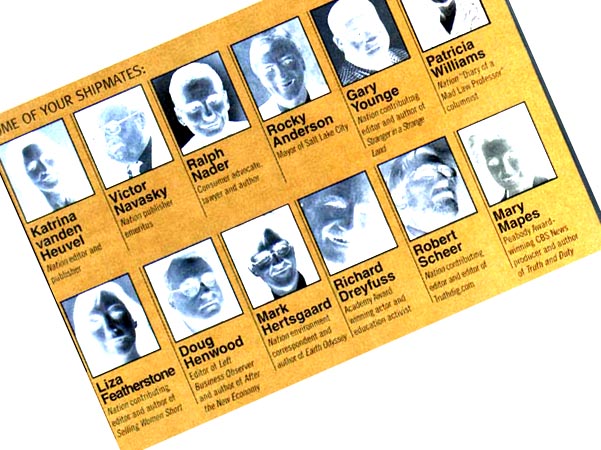 Unfortunately, out of eleven articles, only two directly state the hard truth that so many climate activists avoid. Doug Henwood writes: "[Here is] the crux of the problem: Raising the cost of energy means big changes in the way we live" (11), and he doubts that the ruling classes will save the world (i.e., we can't rely on corporate and central government wisdom to be of much real help). And George Monbiot declares that "[C]limate change appears to demand that progress be redefined. It suggests that the sum of human welfare will now be enhanced not by new economic freedoms but by new restraints" (12).
These should be the foundations of a discussion of what must be done, at the very least a starting point; but, firmly grounded in the system in which it thrives, The Nation never gets there.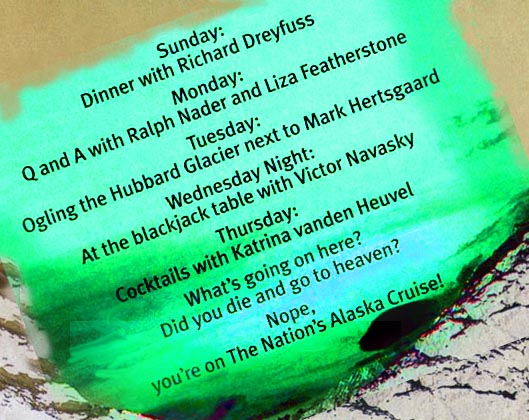 Rather, in a stunning denial of reality, The Nation invites us to take a cruise to Alaska with really important people such as Ralph Nader, Richard Dreyfuss and Katrina vanden Heuvel. For roughly $1,500 to $6,000, you can join (airfare to Seattle not included – airfare!), and for only $11 (strictly optional) you can buy carbon offsets and your voyage will be guilt-free!
Don't they read their own articles?
As the saying so rightly goes, actions speak louder than words. The Nation urges us to embark on an utterly unnecessary luxury cruise so that while belching tons of greenhouse gases we are treated to the spectacle of an endangered environment falling apart, incidentally exploiting cheap labor and polluting the oceans as we go. In one slick full-page ad, an entire collection of climate entreaties is relegated to secondary importance.
The message: pleasure, for the very few lucky ones on the planet who can afford it, comes first. Survival, like the purchase of carbon offsets, is strictly optional (13).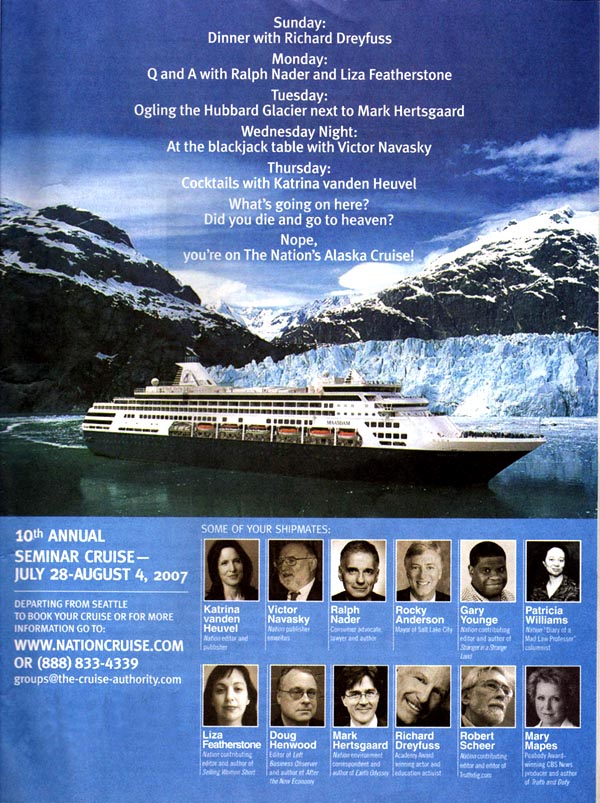 Next time: The Futilitarians.
Copyright 2007 by Adam D. Sacks, all rights reserved.
---
1.
http://www.thenation.com/mediakit/editorial/
2. The Nation, May 7, 2007, vol. 284, no. 18. All articles in citations below are in this issue.
3. "Big Is Beautiful," p. 14.
4. Ibid, p. 15.
5. "Adapt or Die," p. 25.
6. "Farewell, Sweet Ice," p. 26.
7. "The Dirty Rock," p. 32.
8. "Flying Into Trouble," p. 33.
9. "Don't Bet on Offsets," p. 34.
10. "Fevered Imagination," p. 36.
11. "Cooler Elites," p. 22.
12. "Flying Into Trouble," p. 34.
13. The cruises continue, you can go too!
http://www.nationcruise.com/index.htm
3 Responses to "With Friends Like These: The Nation Cruises Into An Iceberg"
dhenwood Says:
December 4th, 2007 at 3:56 pm

Believe me, we were all – well, almost all – exquisitely aware of this contradiction. It became painfully acute at the Hubbard Glacier. Sadly, the cruise raises about $250k which the magazine badly needs.

Get this. At the end of the cruise, Holland America distributed a fact sheet that said the ship – the SS Oosterdam – used about 250,000 gallons of fuel a day. That works out to one gallon per passenger every ten minutes.

Adam Says:
December 8th, 2007 at 1:29 am

Hi Doug –

Many thanks for your interesting and informative post to Climate Chronicles, particularly on the carbon cost of cruising.

You point out the dilemma that the illusion of wealth brings: do we pursue it at all costs because we "badly need it" – or do we find another way. Of course Ralph Nader is a good person (I gratefully wear my seatbelts), same with you and everybody else on board. But The Nation's rationalization seems to me to be no different from that of any individual, corporate or government predator – elevating self to higher importance than others, consequences be damned.

Perhaps The Nation crew would do well to borrow a thought from Pete Seeger:

"Seeger reveals that he resigned from The Weavers when the group's members licensed one of their hit folk songs for use in a cigarette commercial because the musicians were desperate for money.

"'We didn't need the money that bad,' Seeger recalls saying."

http://www.truthout.org/docs_2006/120407A.shtml

Mass slaughter of presumably deeply held principles: does The Nation need the money *that* bad?

Wishing you well,

Adam

Kylie Batt Says:
May 13th, 2010 at 3:15 am

??????????, ?????????? ???????????…..

?????? "????? ? ?????" ?? ??????? 2002 Why can't we keep the dots connected?
Founded by abolitionists in 1865, The Nation is the oldest weekly mag…
Leave a Reply
You must be logged in to post a comment.